The dice weren't the only thing loaded in Vegas April 12,13, 14 & 15 as bluegrass fans from all over the country headed to the Plaza Hotel in Las Vegas, Nevada for the for the Inaugural Bender Jamboree. So, what happened in Vegas? An incredibly memorable (yes, we remember) weekend of fun, sun, and more guests members taking the stage than any festival I've been to.
First off, the Plaza is not a huge place, and with well under 1000 fans in attendance plus the members of the 2o some bands, Bender felt more like an event for musicians to spend a weekend with each other–and fans were lucky enough to be invited.
Most of the musicians stayed on-site at the Plaza. How do we know? Well, we shared elevator rides, gambling tables, and concert floors with pretty much all of them. When Bender said 'everything an elevator ride away,' we didn't expect to have Lindsay Lou carry her guitars onto one going down to the pool stage with us, or one riding up later with Dave Bruzza after his Greensky show. This was a festival with truly no barriers, and the little barriers that existed were shrugged off left and right, like in the picture of The California Honeydrops below.
The Casino Floor Stage was often surrounded by band member checking each other out in between Black Jack hands. Nothing could have felt more like a backstage experience–without being backstage. Musicians like Fruition's Jay Cobb Anderson and Kellen Asebroek, as well as Billy Strings, mentioned that they had family members at the shows, making Bender feel even more like one big family.
Thursday was a whirlwind, with a lively set by Hot Buttered Rum that started our weekend off right. The fiddle heavy jam-grass 5-piece had already made the crowd feel right at home when Erik Yates dropped a string instrument for his flute and launched into The Talking Head's, "Naive Melody."
The Infamous Stringdusters knocked out two stellar performances over the weekend. The boys are definitely on fire in the wake of their Grammy success, and the Bender performances were no exception. Thursday nights Main Showroom performance was nothing short of a dance party. With a wide ranging set list including a raucous "Where the Rivers Run Cold," a Grateful Dead "He's Gone" sing along, and incredibly heavy, "Terrapin Station" teases that had us hoping for the full suite! The Dead was peppered throughout the night with a, "Deal" had had the whole room ready to, "watch each card and play it slow."
Phish fans got some serious love too with a room-shaking cover of, "Possum," but the nights clear highlight was listening to the Dusters', "Let it Go" sung with the members of Fruition (wow you guys–just wow!). All in all the show was nothing short of a 5-star performance.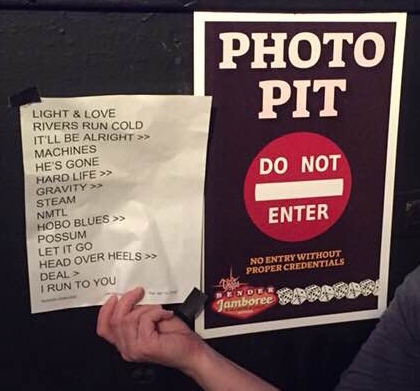 The Dusters Friday Pool Stage performance was just as memorable, with an a high-energy, "17 Cents," a jammed out version of, "Tragic Life" that gave me goosebumps, and dance-fueled versions of, "Get Lucky," by Daft Punk and the Grateful Dead's, "Dancin' in the Streets," not to mention The Allman Brothers', "Jessica." The night ended with, "Fork>Stash(Phish)>Fork." that was perfectly-picked and had bender cheering for a night of great originals and memorable covers.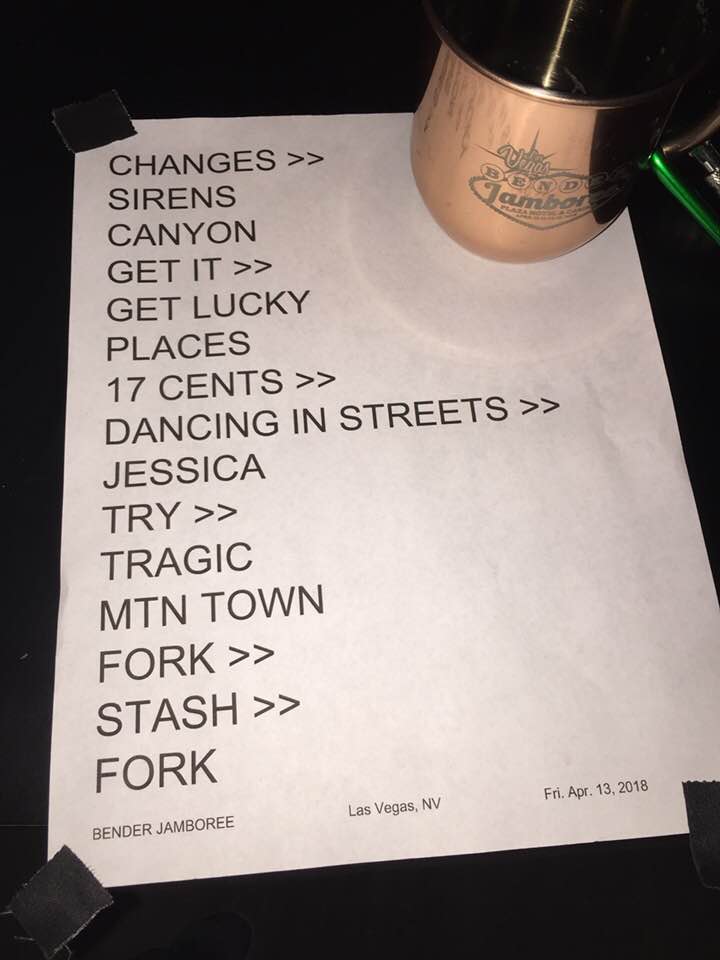 @stringdusters tossing us some Daft Punk @BenderJamboree. Now we have to stay up all night to get lucky pic.twitter.com/HlosmFZs2o

— Heavy on the Jam (@heavyonthejam) April 14, 2018
Fruition's first ever Vegas performances went from rockin' to heartfelt and gave their Fruity Freaks audience everything they came to Vegas for. Thursday's late-night performance by the Portland group in the Main Showroom reminded us where Fruition's sound is evolving too, with Jay Cobb Anderson's electric guitars cutting through "Laydown Blues" & "I Don't Mind," not to mention heavy organ-style keys that bring the funk from Kellen Asebroek. Fruition seem to be taking their music into an electric-Americana direction from their string-band roots, and we're loving it.
Fruition 4/12/18 — Main Showroom, Bender Jamboree: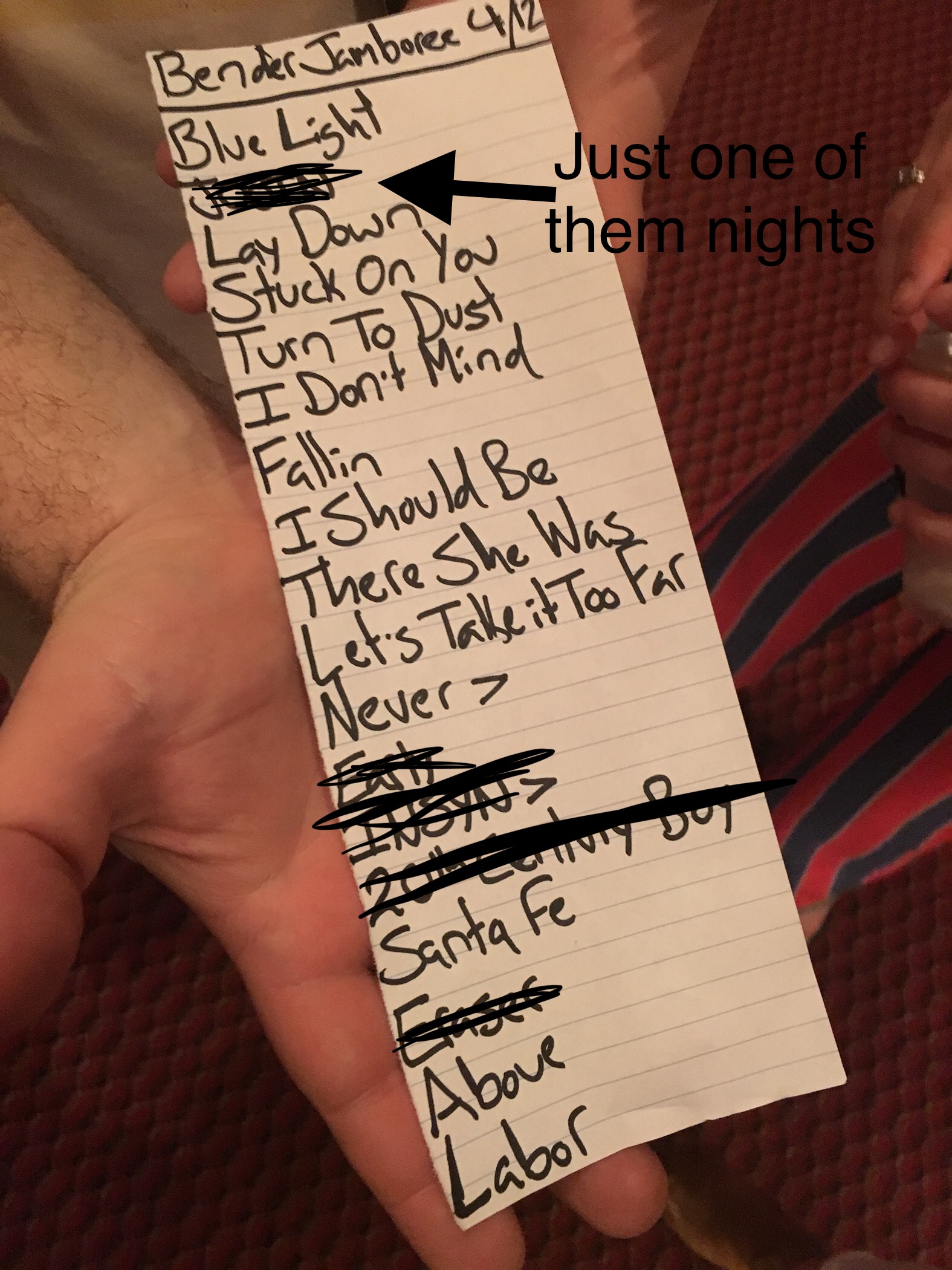 Mimi Naja also picked up the Mandolin on Friday at the Pool Stage, going back to old favorites like Mountain Annie, always finding that perfect compliment with Jay Cobb Anderson next to her. Kellen Asebroek ended the show with "Meaning," surrounded by blue skies, and it couldn't have felt like a more appropriate way to close two incredible shows.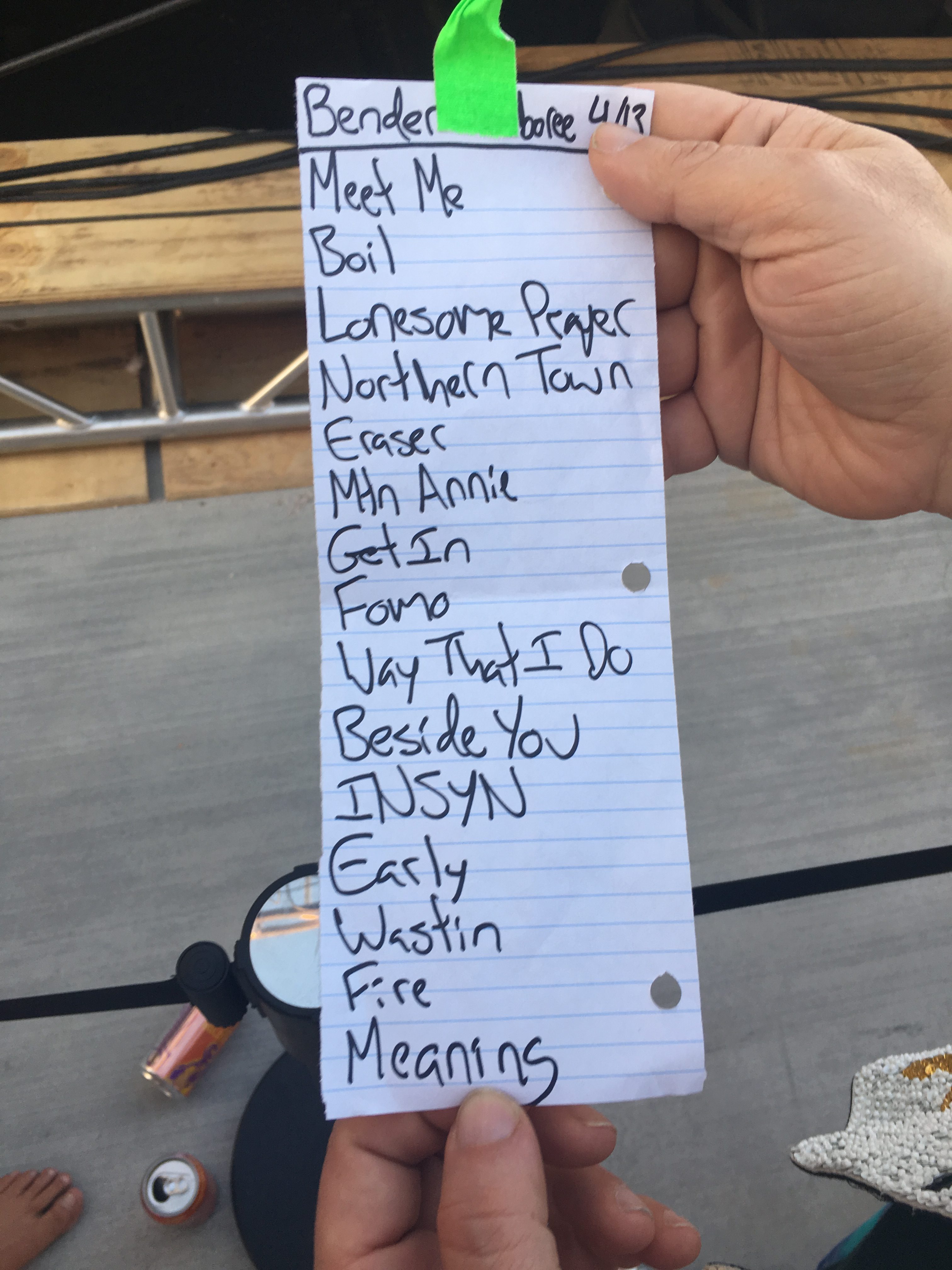 I had chance to ask Kellen when the set lists came about, and he replied that Fruition always writes their set lists just before a show–so that the song choices feel relevant to the vibe, fans, and location. And Kellen, they definitely did!
Vince Herman and the boys from Leftover Salmon kept the good times rolling with an incredible Main Showroom performance with guest Rob McCoury and his Banjo for "Dear Old Dixie," and a perfectly accurate assessment of the crowd with Brewer & Shipley's "One Toke Over the Line." Vince definitely knows how to throw a party, and it was rumored he was wandering around all weekend in a full body lizard onesie, but hey, who knows…
Leftover Salmon
2018-04-13
Bender Showroom @ Inaugural Bender Jamboree
Las Vegas, NV
Dear Old Dixie features Rob McCoury on banjo.
01 – intro
02 – Live It High
03 – All Night Ride
04 – Las Vegas
05 – Show Me Something Higher
06 – Dance On Your Head
07 – One Toke Over The Line
08 – Troubled Times >
09 – Flight of the Durbin
10 – Breakin' Thru
11 – Dear Old Dixie
12 – Lawyers Guns & Money
13 – Morning Sun >
14 – Let In A Little Light
Night two of Leftover Salmon kept the special guests coming with Sam Bush, Billy Strings, and Jon Stickley for an incredibly high energy show that reminded us how amazing it is to have all your favorite artists staying in the same place. Watching all these talented musicians rock out Ernest Tubb's "Drivin' Nails In My Coffin" was a absolute highlight that drove right into a fast paced "Rag Mama Mama." Have I danced this hard in ages? I think not. What a treat.
Leftover Salmon
2018-04-14
Pool Stage @ Inaugural Bender Jamboree,
Las Vegas, NV.
*** Show Notes ***
Sam Bush on fiddle from Bend In The River through Better.
Jon Stickley and Billy Strings on guitar from Drivin' Nails In My Coffin through Rag Mama Rag.
01 – Liza
02 – Down In The Hollow
03 – Southern Belle
04 – Bend In The River**Sam Bush on Fiddle
05 – Evermore
06 – Sing Up To The Moon
07 – Gulf Of Mexico
08 – Aquatic Hitchhiker
09- Drivin' Nails In My Coffin
10 – Rag Mama Rag
11 – Astral Traveler >
12 – Better
[Click here for a full review of Leftover Salmon's Seattle show with Keller Williams]
Billy Strings also made quite the impression this weekend as many attendees commented that this would be their first chance to catch him live. With a contagious smile, a worn guitar, and a tie-dye t-shirt, Billy had crowds hanging on every note. When he finished a song, his audience literally erupted in applause that made his grin grow even wider.
At one point Dave Bruzza wandered out on stage with a bottle of beer during Billy's Main Showroom performance. Lyndsay Lou was already on stage when Dave proceeded to trade his beer for Billy's guitar. Only at Bender folks. Check out the fun video below. Credit to Max Berde.
LiTTLE MAGGiE Billy Strings feat. Lindsay Lou & Dave BruzzaBender Jamboree – The Plaza LAS VEGASApril 14th-ish, 2018#ridiculouslyawesomemusic#benderjamboree#isthisreallife 🧐🎺🎺🎲🎲

Posted by Max Berde on Wednesday, April 18, 2018
Billy continually welcomed guests on stage with him during the weekend, playing with Jon Stickley, with an incredibly fast and technical guitar style complimenting Billy's southern flavor, Andrew Marlin of Mandarin Orange's also incredibly technical and fast mandolin, and the raw beauty of Lindsay Lou's voice made songs like "That's What Love Will Make You Do" favorite moments of the weekend.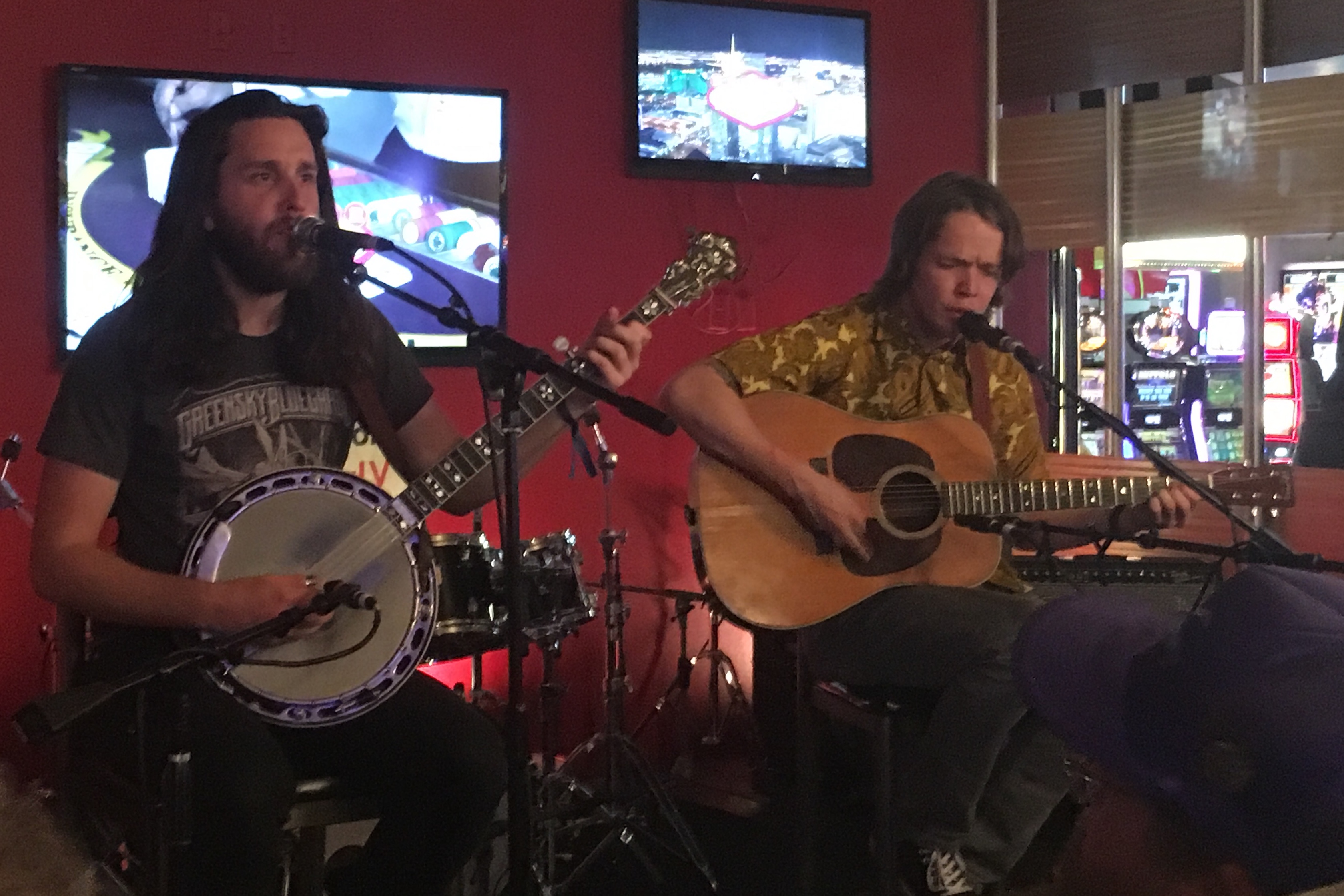 Greensky Bluegrass brought the heat with two intimate Main Showroom performances. Saturday's show began with Paul Hoffman crushing a "Past My Prime" to a packed room. Saturday's show continued focusing on songs from newest albums "When Sorrows Swim," and "Shouted, Written Down, & Quoted." Though the show spanned just two albums, you could tell the boys were loving every minute of it, and versions of "Living Over," & "In Control," had the room glowing between Ander's Dobro, Hoffman's mandolin, and Bruzza'a guitar before "Kerosene" tore the roof right off of the Plaza's Showroom.
The first night of Greensky night came to a close with the newest members of the band, Elvis and his showgirls for a "Viva Las Vegas" that put a grin on every face in the house–band included–and all of us sang those words like there was no tomorrow, because hey… who knew at that point? Greensky closed with a "Leap Year" that brought the house down and had the room pouring love back to the stage for the final song of a show none would soon forget.
Greensky Bluegrass 4/14/18 – Las Vegas, NV
Past My Prime
Handle with Care (1)
Fixin' to Ruin (2)
Room Without a Roof
Living Over
In Control
Letter to Seymour
Demons
Kerosene
Viva Las Vegas (3)
Leap Year (4)(3)
(1) "My Heart Will Go On" tease
(2) Keith Kinnear on wood block
(3) Elvis impersonator on vocals with showgirls
(4) "Viva Las Vegas" tease during intro
Greensky Bluegrass came back with a vengeance with a Sunday show that brought all of Bender to church, where we confessed our sins to Bruzza, Bont, Beck, Devol and Hoffman, hands in the air as each note sunk in deep. Never miss a Sunday show. The show opened with "Viva Las Vegas," because once wasn't enough, right into a Bee Gee's cover "Islands in the Stream" with special guest Lindsay Lou, before going right back into the boys new favorite tune "Viva Las Vegas" (hey, gotta get some mileage cause who knows if that'll ever get played again).
From there Greensky dove into Five Interstates with "Against the Days," and church officially started.  Then the show went all the way back to the title track of their 2004 "Less than Supper," before Sam Bush joined with his fiddle for a heart-stopping "All Four" hitting three albums that hadn't been touched the night before. Then the band broke into a cover of The Band's "Shape I'm In" that had fans of Greensky's and Sam Bush's hootin' and hollerin' appropriately.
Sam parted from the stage and the band jumped back into Handguns with "Bring Out Your Dead" followed by an "Eyes of the World>No Idea>Don't Lie(Double Handguns)>Eyes," a sandwich run of bread-and-butter favorites that planted this cover filled evening firmly in Greensky country. The boys finished the night by coming all the way back to 2016 with "Run or Die," ending our night at the church of 'GSMFBG.'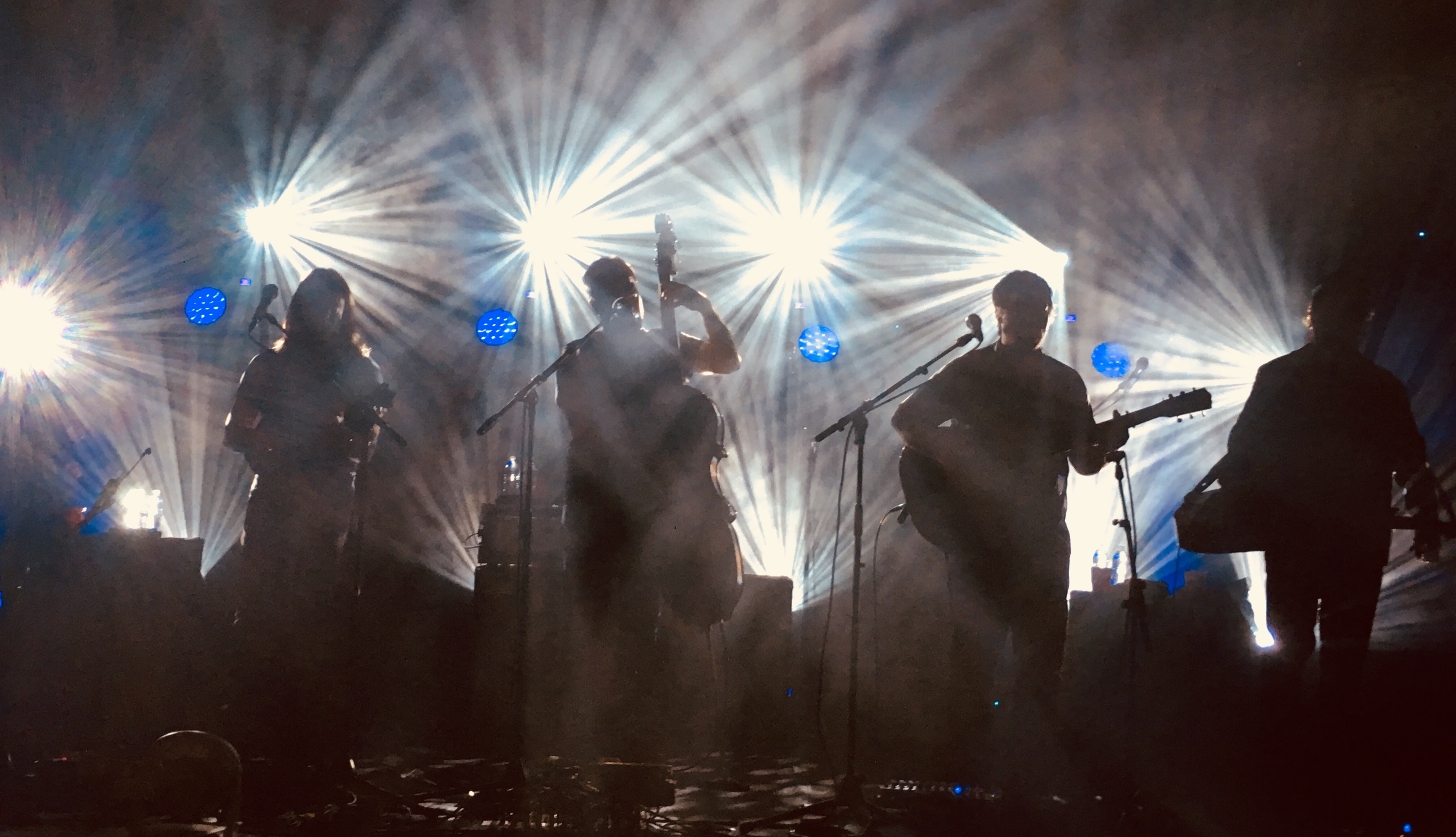 Greensky Bluegrass, 4/15/18 – Las Vegas, NV
Viva Las Vegas (1)
Islands in the Stream (2)
Viva Las Vegas (1)
Against the Days
Less than Supper
All Four (3)
Shape I'm In (3)
Bring Out Your Dead >
Eyes of the World (4)(5) >
No Idea >
Don't Lie >
Eyes of the World >
Run or Die (4)(6)
(1) Unfinished
(2) With Lindsay Lou
(3) With Sam Bush
(4) "Viva Las Vegas" tease
(5) "The Other One" tease
(6) "Eat My Dust" tease
Grammy Award Winning bluegrass giant Sam Bush threw down over the weekend with an incredibly high energy set with amazing covers of the Doc Watson classic "Shady Grove" right into Tom Petty's "Won't Back Down." The crowd about lost it for a "Sneakin Sally>I Just Wanna Feel Something" –and make the music right you do Sam. Sam was surprised by Anders and Hoffman of Greensky with a big 'ol birthday cake and a happy birthday from the crowd.
Sam Bush Band, 4/15/18 Las Vegas, Nevada
Play By Your Rules
TM Blues
Shady Grove
Wont Back Down
Bluegrass Train
Greenbrier
Talk About Sufferin'
Dark Shadows
Sneakin Sally>Feel Something
By Stealth
Circles
Great Balls of Fur
Howlin' at the Moon
New Country
The Lil Smokies made two appearances over the weekend, ripping through jam grass numbers with passionate lyrics written by Andy Dunnigan and straight fire on every instrument from Jake Simpson's jaw dropping fiddle to the Rev's guitar magic. If you haven't caught Montana's Lil Smokies, you are in for a treat. With the stage presence of born rock stars and the humble personalities to carry them miles, this jam grass band is stealing the hearts of every fan that comes their way, and rightly so.
[Click here's for our full review of The Lil Smokies two night run in Seattle on April 11th and 12th.]
The California Honeydrops brought the love all weekend too. These guys make the kind of music that just makes you feel amazing—like being wrapped in a warm blanket made of soul, funk and happiness. And when you add Lindsay Lou's powerhouse vocals to the mix you get more than you bargained for.
Del McCoury Band and the Traveling McCoury's continued in their family tradition of incredible bluegrass, each performing a show over the weekend. Jason Carter's international-bluegrass-award-winning fiddle knocked us off our socks, and Ronnie & Rob McCoury's strings found the firm foundation of Alan Bartram's also international-bluegrass-award-winning bass. All in all, these guys play in a way that only Papa Dell could teach. We just love this family.

SO MANY BANDS…. much love to Dustbowl Revival, who literally defines high-energy and kept the late night party going all weekend! The Shook Twins for classin' the place up, and Polyrythmics for the late night funk! Just too much good music to cover it all—as it should be. The Inaugural Bender Jamboree was a hoot, and we'll see you back there in 2019!
See you on tour!