There are few things more depressing than knowing that your best friends are off to Bender Jamboree under the Las Vegas sun while you're watching rain cascade out of the grey Seattle sky. But sitting around feeling sorry for myself wasn't going to do me any good, so I put on my raincoat, took some vitamin D, and headed to the Tractor Tavern for a two-night run by The Lil Smokies. Who needs antidepressants when you have bluegrass?
This two-night run was a combination of some of my favorite things: my favorite venue in Seattle and one of my favorite rising bluegrass bands. This high dose of the 5-piece ensemble allowed them to display two facets of their playing: night one took a more traditional approach to bluegrass, driven by the interplay between dobro player Andy Dunnigan and fiddler Jake Simpson, while night two was rich with high energy jamgrass fueled by the cohesiveness of the entire band. Relative newcomers to playing two-night runs, this felt like the Smokies' way of displaying both their technical skill and jamming ability, providing a foundation for first time attendees with throwbacks for more seasoned fans, and covers that brought everyone together.
Night one kicked off with "Ms. Marie," a well-chosen foot-tapper that set a high energy tone to the evening. Expected and welcome, they evenly launched into songs off their most recent album, Changing Shades, throughout the set. Unrecorded tunes, "True Blues," "Irish Goodbye," and "Rabbit Hole," which fiddler Jake Simpson proclaimed was his favorite song to play with the Smokies, were peppered throughout. They also played Rhonda Vincent cover, "Cheatin' Kind of Life," and Naked Eyes cover "Always Something There to Remind Me." Their double encore was probably my favorite part of the night. "Hitchcock," a song off Changing Shades with a rather philosophical opening line, "I wonder what it's like to exist," and "Dust in a Baggie," a Billy Strings song about everyone's favorite theme: baggies.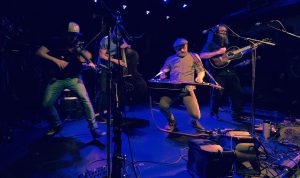 Night two was all about the jam. Two full sets with way more room to stretch out their legs. The kind of night with such epic moments that I freak out nearby strangers with both my unbridled dance moves and unwarranted comments about song choices.  "California > Need a Minute > Going to California" was one of those moments. "The City," second set opener knocked the air right out of my lungs, then they closed the second set with "Rocket Man."  I am happy to report that there we no casualties from mind explosions. The double Paul Simon encore just about made my whole life.  "Graceland," and "Gone At Last"?  Wait a second while I put my head between my legs and breathe.
There were also way more Smokies throwbacks in the setlist on night two.  "High as a G (eorgia Pine)", "Decades," "Mending the Fence," and "The Sequence," tickled my seasoned fancy. They also covered, "When My Time Comes," by Dawes and their "Toothfairy > Paint it Black > Toothfairy" first set closer wasn't too shabby, either. Yes, I'm a cover junkie. No, I'm not ashamed. Anyway, night two left me with the impression that the Smokies have a great sense of where songs should fall across two sets and which songs flow well into and out of each other, traits synonymous with any successful touring band, especially ones that jam.
Overall, there are lots of things to like about The Lil Smokies:  intelligent songwriting, a knack for choosing and arranging fitting covers, Andy Dunnigan's smooth emotive voice, Jake Simpson's powerful vocals that you can actually hear off mic, guitarist Matt Rieger's whole "Beyonce of bluegrass" deal, Matt Cornette's sudden bursts of banjo energy, bassist Scott Parker's contagious facial expressions, tons of charisma and movement onstage, and great jamming. In my Smokies haze, I found myself comparing their stage presence and musical style to that of The Infamous Stringdusters, their bluegrass arrangements of covers vaguely akin to what the Jerry Garcia Band could do with soul (hey, I said haze and vaguely).
Even though there were about a million places in this world sunnier and warmer than Seattle on those days, The Lil Smokies did what they could to shine some bluegrass light into our lives, and I hope The Lil Smokies come back to Seattle soon.  Kinda like now.