On April 26th, 2018 in Seattle, Della Mae and opener Danny Barnes took over the stage at Nectar Lounge.
Warming up the room for the ladies, banjo king Danny Barnes endearingly, sometimes humorously, plucked and sang about pizza, coca cola, and lady parts in his root beer. Then, he continued to win over the crowd by discussing a comic book he drew and hats for sale with two barns on them (get it? Barnes?). This guy is a riot. And he's really good at playing the banjo.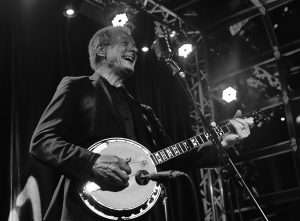 Now to the headliner. There are a couple statements you almost never hear: (1) all-female bluegrass band and (2) all-female bluegrass band that tours all over the world.
Della Mae fits both statements.
They are also badass.
The Grammy-nominated 5-piece out of Boston, MA dazzles with powerhouse vocals, skillful soloing, and raw talent.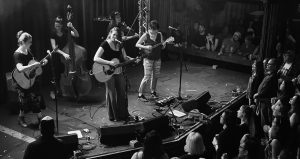 At first, you notice Celia Woodsmith's strong and sultry vocals, then the precision 3-part harmony of Woodsmith, Jenni Lyn Gardner (mandolin), and Courtney Hartman (guitar) hits your right in the eardrums. Initially, you think "Wow, that mandolin solo ripped," or, "It's so refreshing to see a girl absolutely slay on acoustic guitar." Next, you hear bassist Zoe Guigueno solo, and you find yourself wanting to start an international campaign for more bass solos. On top of that, you discover that fiddler Kimber Ludiker is not only a two-time Grand National Fiddler Champion, but is also an alumna of the nearby University of Washington. Get it, girls.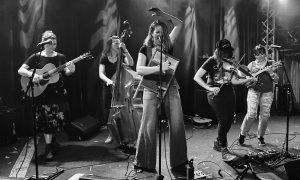 Suddenly, you sense the low, building bass heartbeat of The Allman Brothers Band's "Whipping Post." Woodsmith steps up to the mic. That scene from Jurassic Park enters your mind. Hold onto your butts.
Also, it's nearly impossible to get their song about hard-working women-"Boston Town"-out of your head. Hard-working women singing about hard-working women? This is something I can get behind.
The talent keeps building as literal face striking ensues and washboards emerge. Woodsmith "played" her cheeks, extending her face solo by popular demand. After the solo was over, I swear to you, her cheeks weren't even the least bit red. And can you just walk into a store and buy a washboard like that?  If not, are there tutorials online for how to make one? I'm interested.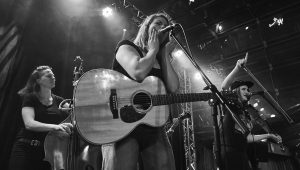 By the end of their set, the Nectar Lounge was absolutely roaring with applause. It's always a good feeling to see a highly talented, indefatigable group of women treated like royalty. In a realm of music dominated by men, Della Mae is living proof that the future of bluegrass can be female.