When I first heard that Tom Hamilton's new 5-piece Ghost Light would be playing at the little Seattle club, LoFi, I thought it had to be a mistake. LoFi is tiny. Like, less than 200 people tiny. I used to go see open mics and friend's bands play there in college, but I hadn't been back in 15 years. Yet, there it was: Ghost Light, featuring Holly Bowling, Tom Hamilton, Steve Lyons, Raina Mullen and Scotty Zwang, at LoFi on March 31st, 2018. So, of course I instantly bought a ticket.
Ghost Light was formed in late 2017 by Joe Russo's Almost Dead guitarist Tom Hamilton, and their inaugural tour kicked off on March 20th, making this their ninth tour performance, so I really didn't know what to expect. I walked down the lengthy corridor to the rear performing space, which was smaller than I remembered, and thought of how the last time I'd seen Tom Hamilton perform was with JRAD to a sold out audience at Red Rocks Amphitheater the previous August. This was too good to be true.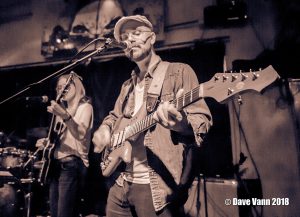 The dim room had vaulted ceilings, exposed brick painted white, with red velvet curtains covering the windows and a huge disco ball hanging in the middle. It felt more like the beginning of a loft party with the gathering crowd chatting over drinks than a concert, save for the stage that stood only about 18 inches high or so, and took up a big corner of the small room.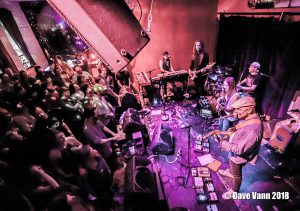 I took a spot off to the right as I waited for the band to begin, and within moments the entire band was also standing side stage, just a couple feet away, where Tom began giving what could only be described as a pre-show pep talk to the other members. Condensed, what he said was along the lines of: Let's have fun and try to play the songs in ways we haven't played them before. If someone goes high, someone else go low, and lets just have a lot of fun—-Okay, now that's very loose, and not at all a quote, but I'm including it because it felt so special to see these musicians, with the warmest smiles and energy, excited to give us a fresh and unique experience. As if I wasn't excited enough for Ghost Light, Tom's pep talk definitely worked on me. And in that moment, before a single note was played, I was already grinning ear to ear.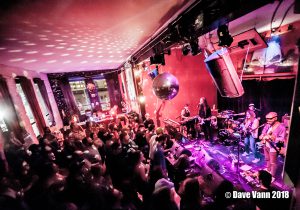 Ghost Light took to the stage, amidst cheers from the crowd of equally excited fans. Suddenly, a friendly guy in a full body unicorn onesie was on my right, and I knew I was in the right place. Ghost Light's opening number showcased great vocal harmonies from Hamilton and Mullen set on a strong foundation of psychedelic rock and roll. From that point on in the first set, the microphones took somewhat of a back seat as the band focused on rich improvisational jams that naturally showcase their individual talents while producing a succinct and engaging sound.
March 31st, 2018. LoFi. Seattle, WA.
Set 1:  Jam > If You Want It (title unconfirmed) > There There > Boy
Set 2:  Lead Weight > Fever Dreams > Diamond Eyes > 100 Years Ago > Winter War Games
E:  Come Apart (title unconfirmed)
Listen to the full show here. Recording courtesy of Eytan Bernet.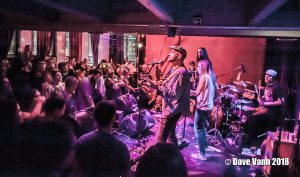 Scarlet Begonias teases seemed to be consistently popping up during the first set, giving a warm sense of familiarity to these brand new songs, and the second set had moments where China Doll, Slipknot, and Attics of my Life teases had the apparent JRAD fan base hoping for a Dead tune.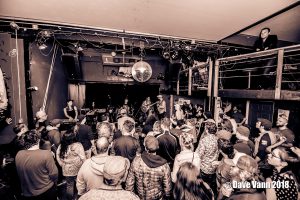 Both sets of original music covered some serious ground. In one moment you might be rocking out to a tune driven by the heavy hitting drum lines of Scotty Zwang, before all the instruments melted away, save Tom's guitar, or Holly's keyboards, and you found yourself in a moment where they were in the spotlight.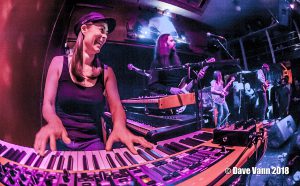 To describe the sound, I'd say Ghost Light is all about the instruments, but to describe Ghost Light as simply a jam band would be like calling Medeski, Martin & Wood simply a jam band. Sure they jam, but at times it felt more like they were trying to reach improvisational nirvana than to play longer, one-off song versions.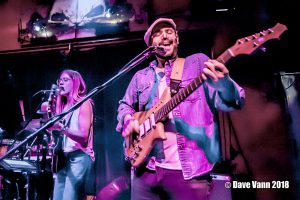 Hamilton and Mullen handled lead vocals with styles that were emotional and drawing, often serving as instruments of their own rather than as a source of song-driving lyrics. Along with their vocals, Hamilton and Mullen's guitars were the perfect compliment to each other, giving a focal point to which each band member could play. Holly's keyboards, which seemed to have infinite range throughout the performance, would blend seamlessly into a jam one minute, before taking center stage a moment later. The night closed with grins all around from fans who were sure to never see Ghost Light in such an intimate setting again.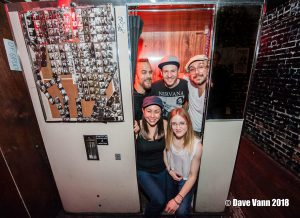 All in all, I can't wait to see how Ghost Light's sound develops in time. Tom mentioned that their first practice was only a week after Thanksgiving, and it was incredible to see these guys so early after their formation—but it's even more exciting to think of where their music is going.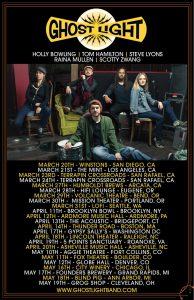 Check out Ghost Light's site here for upcoming shows and ticket info.