I invited a friend from high school who I hadn't seen in 7 years to Leftover Salmon and Keller Williams at the Neptune Theatre in Seattle.  This would be her first time seeing both artists, and my rather sad attempt at describing them to her went a little like this, "Well, the opener is a bit weird, but really quirky and fun.  I think it's just going to be him solo with a guitar.  The headliner is a bluegrass jam band, but they also play some funk songs and other stuff that's pretty danceable."  What is genre anyway?  Isn't all music just a bunch of notes arranged in different ways?  Anyway, Keller Williams and Leftover Salmon are two artists whose genres I obviously can't pin down.  Perhaps writing this review will change that.
In my opinion, the Neptune Theatre is one of the most beautiful music venues in Seattle, as well as one of the most functional.  If you're like me and go directly to the bar, located behind the dance floor in the theater, you walk past a full snack bar and coat check on your way.  If you're in less of a party mode and want to have a more relaxed experience, you can head upstairs and grab a seat in the balcony.  With drink in hand, I found my spot amongst an already packed crowd of Keller fans while admiring stained glass windows of Neptune and other Roman gods lining the room. Then Keller came onstage.
Keller Williams is somewhat of an enigma in the music community.  Everybody seems to like him, but for different reasons.  Maybe it was his album with the String Cheese Incident, or that one with the Travelin' McCourys?  Or maybe it was one of his festival performances with Grateful Grass or More Than A Little?  Regardless, this performance was going to be none of those things.  Classically barefoot Keller had an acoustic guitar, a mic, and a pedal board, but he also had an electric bass on a stand, one of those square electronic drum pads that makes techno noises if you touch it (I'm sure there's an actual name for those, but I'll stick with this),  and a bunch of other percussive items one might describes as "doo dads."  Throughout his set, he used these items to very creatively loop his way into what sounded like him performing with a full band.  This was impressive to witness.  Looping is what all the cool people are doing.  The musician essentially live records short licks that are going to be repetitive throughout the song and controls when they are played using an assortment of foot pedals.  The more licks and instruments you add, the more complicated it becomes.  Keller did this without a hitch, even including a kazoo at one point.  He also ended his set with "Freeker by the Speaker," a throwback tune, yet something everybody in the audience, including myself, was stoked to hear.  Even my friend from 8th grade who had never heard of him was super entertained by his set.  10 points to Keller!  I still don't know what genre that was, though.  Singer-songwriter in the year 3000?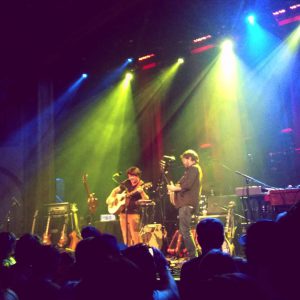 Now it was Leftover Salmon's turn to take the stage.  With audience members enthusiastically yelling, "FESTIVAL!" you couldn't help but be energized.  While waiting, I was thinking about the first time I saw them—Nightgrass at the Telluride Bluegrass Festival.  I'm pretty sure there was a guy in a silver sequined full body suit with, like, a top hat getting down on the rail?  Based on that memory, I knew this was going to be a fun night.  Their set started with the short and traditional bluegrass tune, "Gold Hill Line," which morphed into the super fun calypso-style, "Mama Boulet."  It was at this point that I kind of wished Vince Herman could be my dad.  He's a big guy wearing a white T-shirt and jeans, looking kind of shaggy, with a huge smile on his face, a larger than life spirit, and booming voice that sent the room into a dancing frenzy.  To level things out, the band then went into new song, "Southern Belle," off their soon to be released album, "Something Higher."  The slow, sweet string intro cast a feeling of nostalgia, the lyrics describing a relationship that had come and gone.  I've already listened to it about 10 times, so I clearly didn't like it at all.
Then, Leftover Salmon welcomed saxophonist and Seattle favorite, Skerik, to the stage.  My 'nads were tingling.  Bring on the freaking horns!  He laid down sweet sax solos on three songs—"This is the Time," politically charged, "House of Cards," and instrumental, "Bolin Creek."
His solo during, "This is the Time," was reminiscent of Supertramp's album, "Breakfast in America," rocking and soaring at all the right times.  Conversely, his solo on the much slower and groovier, "House of Cards," was more reminiscent of a lonesome guy playing his sax on a New York City fire escape.  The incredibly bluegrass-driven instrumental, "Bolin Creek," brought solos by mandolinist Drew Emmitt, banjo player Andy Thorn, and pianist Erik Deutsch, but Skerik's performance had to be the most surprising.  About halfway through, the song slowed dramatically, and Skerik played in the style of John Coltrane's, "A Love Supreme."  Then, to pull us out of the jazz hole in which we had settled, Skerik stepped up the tempo, the banjo was reintroduced, then the rhythm section, consisting of Greg Garrison on bass and Alwyn Robinson on drums, kicked in.  When a band can flawlessly take an audience on that kind of journey, you know they've got some serious chops. Overall, Skerik brought the show to an entirely different level.  As someone who had only seen Skerik perform in assorted Seattle jazz bands, I was incredibly impressed at his ability to adapt and play all the types of music that Leftover Salmon threw at him, winning over the crowd in a big way.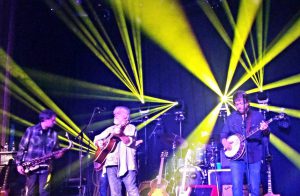 The show went on to feature drummer Alwyn Robinson on vocals on electric blues tune and Gary Clark, Jr. cover, "I Don't Owe You A Thang."  Leftover Salmon closed their single mega-set with John Hartford cover, "Up on the Hill Where They Do the Boogie," a song that accelerates and accelerates until you find it hard to move your feet fast enough to keep up.  There was no way they were going to get away with a one song encore.
Appropriately, Keller and Skerik rejoined the band for a not one, not two, but four song encore!  At this point, the musicians had already proved their awesomeness, so it was time to give the audience a chance to contribute: a singalong.  The first song was a cover of Nirvana's, "Lithium."  When in Seattle, right?  They then performed covers of Cracker's, "Teen Angst," Amy Winehouse's, "Rehab," and Tom Petty's, "You Don't Know How it Feels."  Dancing like fools and singing along like banshees, the audience took the chance to participate by the reigns.  And let me tell you, we could have sung along all night.  It makes sense, though.  Pacific northwesterners love us some salmon.
So, Leftover Salmon, I'm still not sure what genre you are, but you sure know how to close a tour.
For a full audio recording of the show, click here.  Recording courtesy of Eytan Bernet.