So, you've literally been planning a bender…for months now…with all of your friends………And with the stellar lineup for the inaugural 2018 Bender Jamboree in Las Vegas, Nevada, who can blame you!
The chips are stacked high as Greensky Bluegrass, Leftover Salmon and the now Grammy Award winning Infamous Stringdusters join legend Del McCoury and so many more for what's shaping up to be one hell of a first-time-go-round at the Plaza Hotel this April 12,13,14 & 15.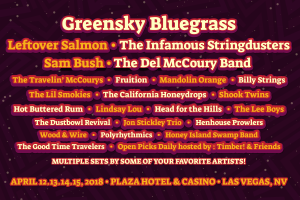 So here's the rundown. Four stages (one pool/one bar/one main/one lounge). Four days (two additional free nights if you wanted 'em). Late night shows (all four nights). Themes (again, all four nights, and more to say on that later). 23 bands (Do you count the 'open picks' host? Then 24). Aces? (back to back).
Most of the Bender artists will perform multiple times during the weekend, many of whom have collaborated in past festy settings to create those once-in-a-lifetime moments that make you pinch yourself. Who's Anders going to break out the dobro with?  Will The Travelin' Mccoury's magically surround Sam Bush mid performance? Will some dude yell, "Hey! Jeremy Garrett is playing fiddle in the pool!"  Likely yes, and we'll be there to capture the magic.
Late night shows feature some serious funk from the Polyrhythmics, soul from The California Honeydrops, along with sets from Fruition, Billy Strings and The Dustbowl Revival. Though none of the weekends sets are slated to go longer than an hour and a half, there's never more than a 30 minute break between performances (whew!).
Okay, Bender's nightly themes go as follows:
Thursday — Hometown Throwdown — Rep your City (Go Dawgs!)
Friday — Beer and Loathing (this is also my week after)
Saturday — Caturday Night Fever (insert feather boa here?)
Sunday — Pajamboree  (let's face it, bluegrass & pajamas? this could be scary… or beautiful)
The verdict: only Bill Monroe could tell you that.
Wanna join the party?  It's not too late! Head over to Benderjamboree.com for the details!
See you in Vegas!