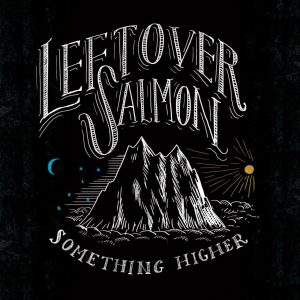 What a time to be alive. As our memories of a world without iPhones and e-mails fade, Leftover Salmon has been busy building their own polyethnic-cajun-slamgrass DeLorean, taking us on a nostalgic trip to a simpler time, and they called it Something Higher.
In one sentence, Leftover Salmon's new 12-track release, Something Higher, sends a message that in a chaotic world permeated by technology, the internet, and political tension, one can always find hope and peace via the tried and true routes of nature, travel, and music.
Here's a quick track-by-track breakdown:
"Places" is a great addition to the travel song lexicon. Recommended if you would enjoy a more wholesome version of Steve Miller Band's "Rock'n Me."
"Show Me Something Higher" will be a hot commodity at festivals. Recommended if you like grooving to horns, ripping electric guitar, and funky keys and rhythm.
"Southern Belle" is a sweet, nostalgic track that has embedded itself in my ears. Recommended if you're in the late stages of getting over an ex.
"Analog" is a clever song about how digitalizing everything makes the world suck. Recommended if you listen to vinyl.
"House of Cards" intelligently ties social and political events of the past to present issues. Recommended if you like protest songs from the 1960s.
"Evermore" is a wistful track about longing to be in beautiful places. Recommended for when you're stuck at your desk job staring at a 3×5 of your last hiking trip.
"Astral Traveler" is spacy, synthy, and psychedelic. Recommended for late nights pondering existence.
"Foreign Fields" is about being lost in unfamiliar places. Recommended for finding strength on a bad day.
"Game of Thorns" is recommended if you like bluegrass instrumentals, or you need a theme song for your Game of Thrones spinoff where Jon Snow is played by Andy Thorn.
"Let in a Little Light" has an old timey vibe reminiscent of the "O Brother, Where Art Thou?" soundtrack. Recommended as a pick-me-up for a bad day.
"Winter's Gone" is recommended if you dislike winter and prefer spring/summertime, or if you are stuck in a dark part of your life and searching for the light.
"Burdened Heart" is about heartbreak in California. Recommended if a Californian f*cked your shit up.
Support Leftover Salmon by purchasing their new album and picking a few summer tour dates to hit here!