It is Thursday night in Milwaukee.  The beer is flowing, the air is probably very cold, and the newly minted Grammy award winners The Infamous Stringdusters are in town.  This time, as part of the "Across the Great Divide Tour," they are teaming up with Jamgrass TV to stream their full two-set show from Turner Hall Ballroom for free to bluegrass fans near and far.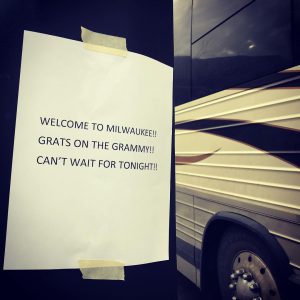 Minnesotan openers The Last Revel warmed up the room for a night of perfectly crafted jamgrass.  Starting with fast and hard "Don't Mean Nothin", the Dusters moved into more lighthearted jams in "See How Far You've Come," and Allman Brothers Band cover, "Jessica."  With the beer hitting all the right places and the crowd struggling to remember the words to "Jessica," (there are no words, are there?) the Dusters hit the brakes, moving into travel ballad, "Places I've Been," showcasing bassist Travis Book's velvet-smooth vocals.  Then, the Dusters began to ramp up the energy again, spiritedly teasing the Olympics theme song, and ending the set with feel good "I Run To You" off of their Grammy-winning album "Laws of Gravity."
After completing what I assume to be the great Milwaukee tradition of drinking as many beers as you can keep down during set break (well, let's face it, this is a tradition anywhere), the Dusters returned with a nod to Johnny Cash and the Grateful Dead with, "Big River."  They kept the energy high for the second set, only taking short breathers during, The Police's, "Walking on the Moon," "By My Side," and murder ballad, "Tragic Life."  As the end of the second set neared, the Dusters went full throttle, setting a bluesy tone with "Get It While You Can," then taking off into the ether with John Hartford cover, "Steam Powered Aereoplane," climbing to new heights with a Phish-style "2001" jam, and nailing the landing with a super high energy, "Peace of Mind."  There were also Super Mario Bros teases peppered throughout, leaving listeners with musically-induced whiplash they never knew they wanted.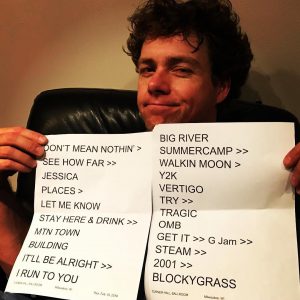 The Dusters could not hide their love for the people of Milwaukee, encoring with Grateful Dead anthem, "Not Fade Away."  Admittedly, watching this show made me want to move to Wisconsin a little bit, too.  Or at least get smashed on PBRs while watching a live jamgrass show with Milwaukee's finest.